Piedmont Columbus Regional Celebrates National 529 Day with Contribution to First Baby of the Day's
College Savings
published May 30, 2023
Across the nation, May 29 is celebrated as "529 Day" to raise awareness of each state's 529 college savings plan and the importance of financial planning. Today at Piedmont Columbus Regional, in partnership with the state of Georgia's Path2College 529 Plan, the hospital celebrated the first baby born on 529 Day by awarding Carus Kincaid with a $1,529 contribution to her Path2College 529 Plan savings account.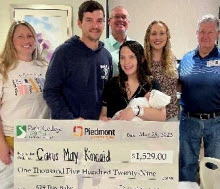 "We are very grateful for this wonderful opportunity for Carus' future," said Leah Kincaid, Carus' mom. "This gives us a great start on her college planning."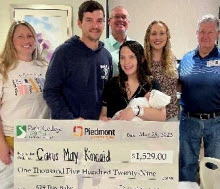 "We are very grateful for this wonderful opportunity for Carus' future," said Leah Kincaid, Carus' mom. "This gives us a great start on her college planning."
This is the eighth year the Path2College 529 Plan has partnered with Piedmont Columbus Regional to award a college savings account to a "529 Day Baby."
"This is a wonderful opportunity to participate in the future education of one of our youngest patients. The goals of this program align with our mission to support the needs of children in our community and to make a difference in the lives we touch," said Chief Nursing Officer Cary Burcham, Piedmont Columbus Regional.
Additionally, families who welcome a new baby in 2023 have an opportunity to win money for their newborn's college savings. Parents, grandparents and guardians of Georgia babies born in 2023 can enter the Newborn Sweepstakes at www.Path2College529.com until April 14, 2024. Visit the site to see the official rules and prize details. Entrants must be legal residents or taxpayers of Georgia and at least 18 years of age to enter. No purchase necessary. Void where prohibited. Sponsored by the Path2College 529 Plan.
"The Path2College 529 Plan Newborn Sweepstakes encourages parents and grandparents to focus on saving for education early," said Georgia Student Finance Commission President Lynne Riley. "Saving regularly over time makes a significant difference, and this sweepstakes will help a family get a jump-start on their college savings."
For more information about the Path2College 529 Plan or to open a college savings account, please visit www.Path2College529.com or call (877) 424-4377.
To learn more about the Path2College 529 Plan, its investment objectives, tax benefits, risks, charges and expenses please see the Plan Description at path2college529.com. Read it carefully. Investments in the Plan are neither insured nor guaranteed and there is the risk of investment loss. Consult your legal or tax professional for tax advice. TIAA-CREF Individual & Institutional Services, LLC, Member FINRA, underwriter and distributor.
Explore our plan

Learn more about eligibility and all the qualifying expenses a Path2College 529 account can cover.

How our 529 works

Compare investment options

We make it easy to choose investment options that fit your financial needs and savings goals.

Explore your options
Want more time before getting started? Sign up to receive Path2College 529 information and college
savings tips.